Michael Kutschbach – benthos borborygmi*
January 21 – March 05, 2022
After two postponements due to the pandemic – Michael Kutschbach, who currently lives in Adelaide/Australia, will be presenting his latest work in the exhibition »benthos boborygmi«.
In 2021, Michael Kutschbach realized a multi-channel video project which was the culmination of a Guildhouse funded 'Collections Project', made in partnership with the Adelaide Symphony Orchestra and the City of Adelaide. As a differentiated body of sound and moving-image, the world premiere of the work took place in Adelaide across various public spaces, including city projections and the large-scale Adelaide Festival Centre outdoor screens.
Due to the pandemic, there was initially little direct contact with the orchestra. Yet, as Adelaide emerged from lockdown and began to resume with its cultural programs, the artist could sit in on rehearsals and concerts, interact with members of the orchestra, and search out ways in which his visual work could find its analogue to the orchestral experience.
The resulting artistic interpretation speaks of a biomorphic, abstract language and at the same time reflects the artist's interest in 'siphonophores', which look like jellyfish but are actually colonial organisms made up of many individual creatures. Siphonophores lead a symbiotic life and are correspondingly diverse. Synonymous to the dissonant orchestral 'tuning' before a concert, when musicians warm up with their instruments, Kutschbach offers a shifting visual cacophony, which is expressed in the individual moving-image sequences on the three monitors. This seemingly visual chaos abruptly turns into a harmonious chord/triad when concordances arise at various moments throughout the video's duration.
Analog zum Mehrkanalvideo, das in den Galerieräumen als Drei-Kanal-Video vorgestellt wird, jedoch bis zum 15-Kanalvideo ausbaubar ist, wird eine weitere Werkgruppe vorgestellt, die als kleinformatige Wandobjekte in Form und Material wiederum den Aspekt des Vielgestaltigen aufgreifen. Sie bestehen aus Hartzinn, Glas und farbigen Acrylfasern. Wie bei den Siphonophoren generiert ihre Vielgestaltigkeit völlig neue, so noch nicht gesehene visuelle und materialisierte 'Bilder', die näher betrachtet, eine eigene Harmonie generieren und als Wandschmuckstücke verstanden werden könnten. Die weich und bewegt in den Ausstellungsraum von der Decke 'fließende', bedruckte Seide komplementiert die Ausstellung zu einem Dreiklang: Es ist das bewegte Bild als Triptychon, es sind die plastischen kleinen Wandgebilde und das fotografische, digital veränderte Bild, das in seiner materialisierten Leichtigkeit den Galerieraum erobert. Einmal mehr stellt Michael Kutschbach sein künstlerisches Schaffen, seinen Anspruch auf materielle Divergenz und seine künstlerische Fertigkeit medienübergreifend vor und komponiert dies zu einem temporären Gesamtkunstwerk, so wie er es schon in den letzten zehn Jahren bei Semjon Contemporary gehalten hat.Nicht umsonst wurde die Galerie im Jahr 2010 mit seiner Einzelausstellung »hoi polloi« eröffnet! Das nächste Jahrzehnt wird wiederum von ihm eingeläutet. Komme, was da wolle!
Semjon H.N. Semjon, January 2022
* »benthos« refers to sea life at the bottom of the sea and »borborygmi« to the sound of ones stomach growling.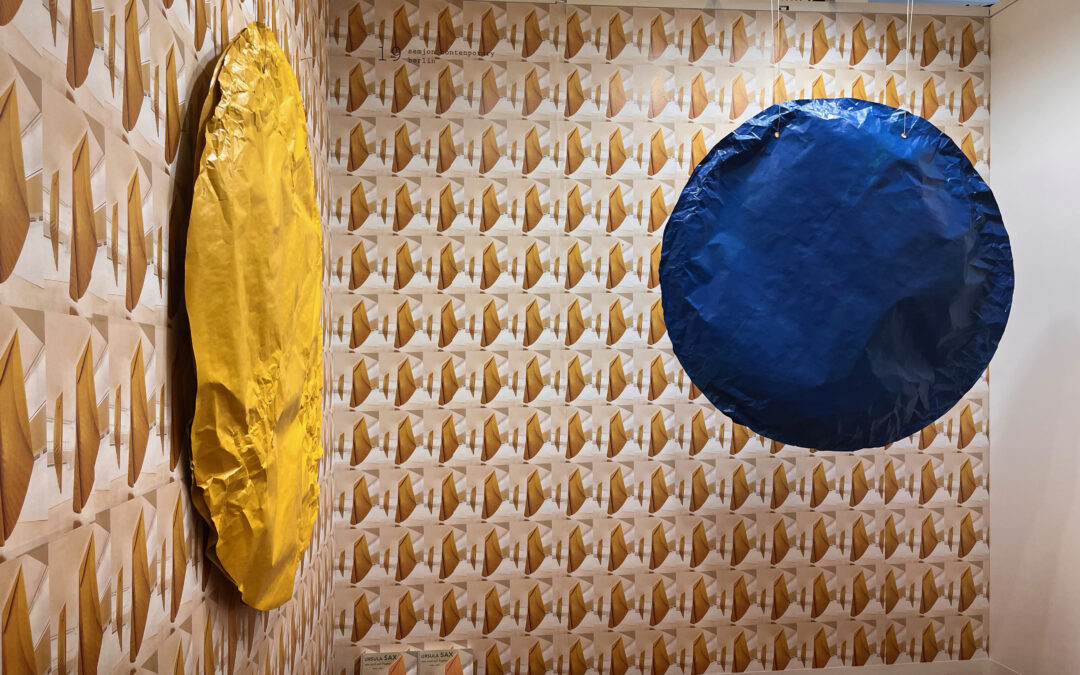 Ursula Sax @ Paper Positions Berlin 2023 Portfolio Ursula Sax hat mit ihrem Einzelstand ein Statement zu ihrer Kunst gemacht.Die beiden großen titellosen plastischen Scheiben aus Papier (Durchmesser je ca. 135 cm x ca. 8 cm oder ca. 17 cm) geben Zeugnis ihrer...